The future of mobility is at a critical inflection point. With oil prices spiking and climate change wreaking havoc across geographies, Electric Vehicles have immense potential to be the solution we need. As the fifth largest automotive market in the world, India has a huge responsibility towards shaping a greener future. Cognizant of its role, India has pledged to achieve net zero carbon emissions by 2070 and ensure that all public transport as well as 30% of private vehicles will go electric by 2030. EVs are on track to redefine the future of mobility in India.
What are the Drivers for Electrification in India?
Reduce Oil Import, since imports currently meet nearly all of India's oil needs, costing about ₹2,000 crore every day [1]
Reduce Urban Air Pollution, since bad air quality has created unprecedented health concerns (In a 2019 study, 21 of the 30 most polluted cities in the world were in India [2])
Climate Protection Commitments, such as the goal to achieve net zero carbon emissions by 2070[3]
Favorable Policy Environments, with schemes that promote a goal of reaching 30% EV penetration by 2030[3]
Consumer Incentives, including low running costs, governmental subsidies, and environmental considerations
The EV market is at a nascent stage in India, with the promise to grow in the coming years.
In a nutshell:
EVs currently occupy less than 1% of total vehicle sales, with the potential to grow to more than 5% in a few years.
Currently, there are more than 500,000 electric two-wheelers and a few thousand electric cars on Indian roads.
More than 90% of EVs are low-speed electric scooters that do not require registration and licenses.
Nearly all scooters run on lead batteries to keep prices low, but battery failures and low battery life are concerns limiting sales.
E-rickshaw manufacturers are mushrooming across the country with growing adoption in the market for last-mile connectivity.
Overall, the future of EVs in India looks promising with growing consumer adoption, supportive government policies, and increasing technological sophistication, all paving way to realize our vision of carbon neutrality by 2070.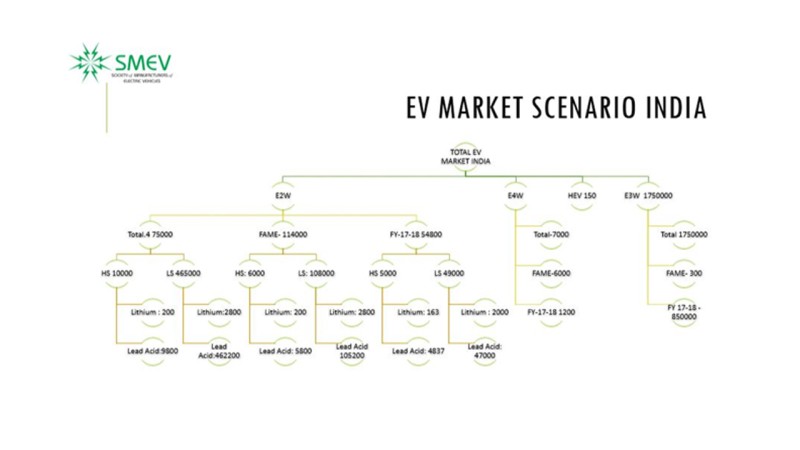 Where does Bosch stand on electrification?
BOSCH strategizes its mobility solutions under P-A-C-E (Personalized, Automated, Electrified and Connected) pillars.
It "electrifies" the mobility segment with innovative engineering solutions like power electronics (inverter-converters, charcon etc), e-machines, battery solutions and drive units in the form of eAxles.
It offers cutting edge fuel-cell concepts like fuel cell stacks from individual components and modules to an all-in-one system for commercial vehicles.
It also has a very strong ECU portfolio like VCU(Vehicle Control Unit),FCCU(Fuel Cell Control Unit) etc.
Through such diverse solutions BOSCH is offering high efficiency, reliability and flexibility/modularity to customer OEMs. Such scalable approach enables automobile manufacturers to speedily implement new electric-vehicle concepts and helps them to further increase their efficiency in development. The Bosch Way is deeply committed to technology solutions that can help foster climate neutral transportation and a global sustainable future by 2050.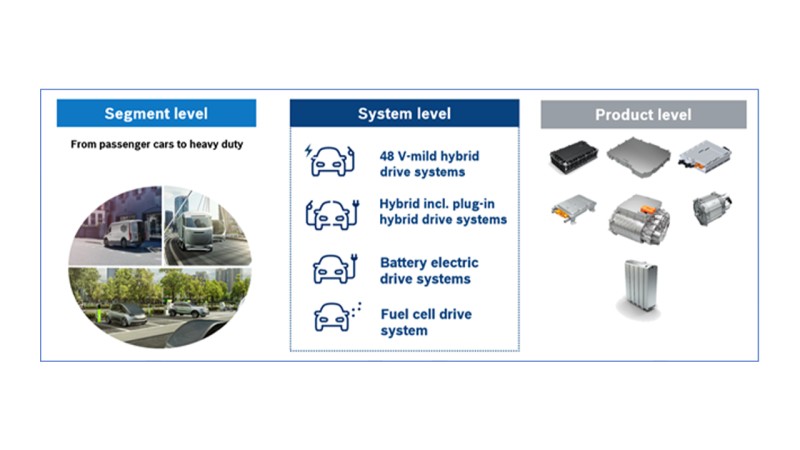 What are the challenges in EV implementation in India?
Range anxiety given high charging times and poor range for long distances
Lack of suitable EV options
Increased costs from high vehicle prices, residual value and battery replacement costs
Inadequate charging infrastructure which is unavailable on-demand
Lack of awareness including safety concerns
Technological uncertainties regarding battery life and a still-evolving E/E architecture
The Indian EV Policy Landscape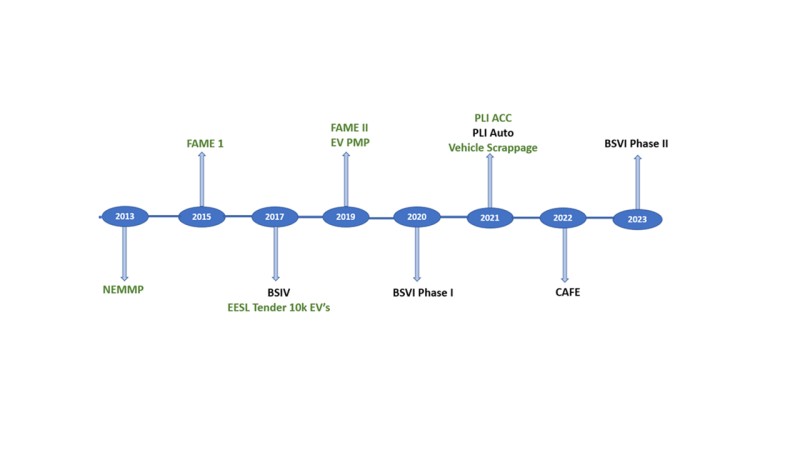 Many policy initiatives have been launched by the government to foster EV growth in India. Let's take a look at major EV policy initiatives in India:
The National Electric Mobility Mission Plan 2013 (NEMMP)
In 2013, the "National Electric Mobility Mission Plan (NEMMP) 2020" was launched. While the project did not take off as planned due to a variety of factors, it paved way for the first phase of FAME in April 2015[5].
Faster Adoption and Manufacturing of Hybrid and Electric Vehicles 2015-2019 (FAME 1)
FAME had the following focus areas for the EV ecosystem: (i) technology development, (ii) demand creation, (iii) pilot projects, and (iv) charging infrastructure.
Key highlights
427 charging stations installed during Phase I.
₹ 895 crores allotted to cover the operations of Phase I.
Nearly 2.8 lakh electric vehicles supported with ₹ 359 crores.
GST on the purchase of BEVs lowered to 12%.
The FAME II scheme was introduced in April 2019 (now extended to March 2024)[5] with a budget of INR 100,000 million ($1.4 billion), with approximately 86% for demand incentives, 10% towards the development of charging infrastructure and approximately 4% towards technology platforms & operations.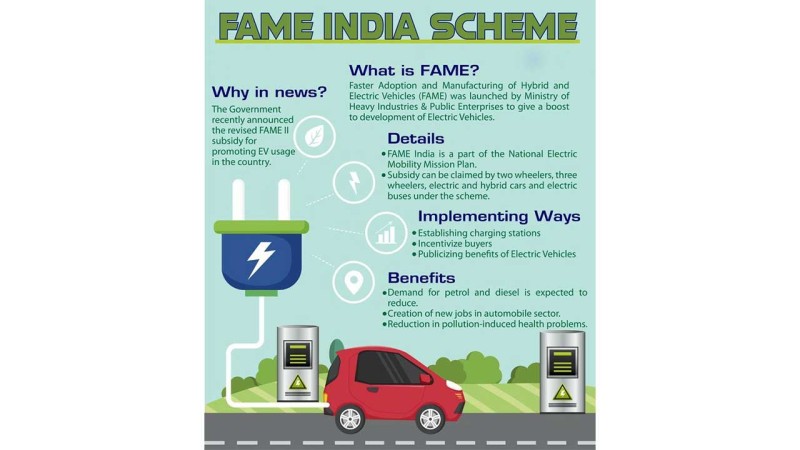 Key highlights
Subsidies for 7000 electric buses, 55,000 passenger four-wheelers (including strong hybrids), 500,000 three-wheelers, and 1,000,000 two wheelers.
GST on EVs reduced from 12% to 5% and from 18% to 5% for charger/charging stations.
Product Linked Incentive Scheme 2021 (PLI SCHEME)
This scheme is aimed at enhancing India's manufacturing capabilities for Advanced Automotive Products (AAT) with a budgetary outlay of ₹25,938 crore. PLI was intended to boost domestic manufacturing of Advanced Automotive Technology (AAT) products and attract investments in the automotive manufacturing value chain. Its primary objectives include overcoming cost disabilities, creating economies of scale, building a robust supply chain in AAT products, and generating employment. This scheme will enable the auto industry to move up the value chain into higher value-added products. The scheme has two components – Champion OEM incentive scheme and Component Champion incentive scheme, with 95 applicants approved so far.
Additionally, schemes such as Energy Efficiency Services Limited (EESL) tender for the procurement of 10,000 EVs for government entities are expected to provide an added fillip for EV production and adoption.
State EV policies
State governments have implemented their own EV policies to complement the Centre's efforts at EV promotion. These include:
Financial incentives for EV purchases, exemption from road taxes and car registration fees, low loan interest rates for EV purchases.
Initiatives to purchase more EVs for last-mile delivery services and public transportation.
Infrastructure to produce batteries for EVs along with the required charging infrastructures.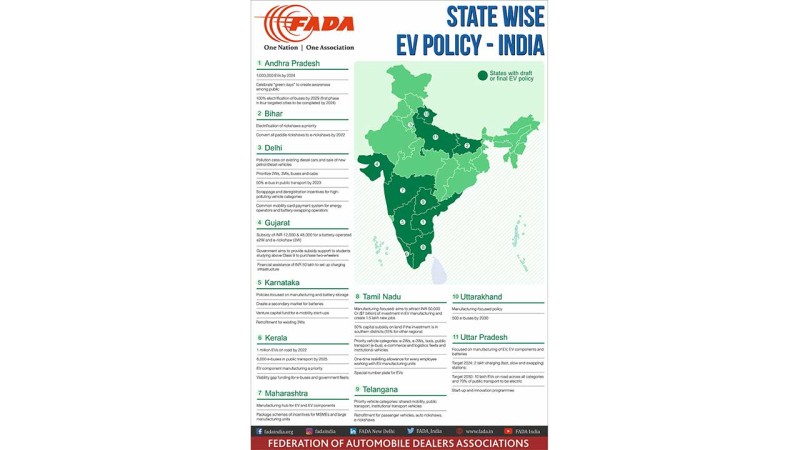 References:
[1] Oil dependency and carbon emissions — EVs may not be India's answer to reducing either, say experts | Business Insider India
[2] How electric cars will reduce pollution in India (kazam.in)
[3] A Study on the Adoption of Electric Vehicles in India: The Mediating Role of Attitude - Anil Khurana, V. V. Ravi Kumar, Manish Sidhpuria, 2020 (sagepub.com)
[4] India is going electric. Here's how | World Economic Forum (weforum.org)
[5] Electric Vehicle Policy Framework in India | by BatteryBitsEditors | Battery Bits | Medium
[6] Government policies to promote electric mobility in India | YoCharge
[7] What's CAFE all about ? | Autocar India
[8] https://www.smev.in/ev-industry
[9] https://heavyindustries.gov.in/
[10] https://www.godigit.com/guides/government-schemes/fame-india-scheme