Engineering Smart Products
Embracing Digital at each step of Product Engineering
Modern digital products and devices have become an important part of organizations, and AI, IoT, Edge Compute, Virtualization are emerging as some of the key technologies in building them. Bosch leverages these modern-day technologies to build an extensive range of smart products and offer new-age services.
At Bosch, we offer innovative digital engineering services including embedded hardware and software services, smart product engineering, security, and edge computing. Our experts enhance the concept formation, design, development, connectivity, testing, implementation, and usage experience of modern digital products and helps provide transformation at scale.
Our engineering services can cater to the unmet needs of organizations across various sectors, ranging from industrial equipment to smart homes. It enables our global clientele to launch their products faster and in a more efficient and secure manner.We equip you to move forward from ideation to industrialization.
Our Extensive Range of Services
We leverage Technologies of Today to solve Problems of Tomorrow.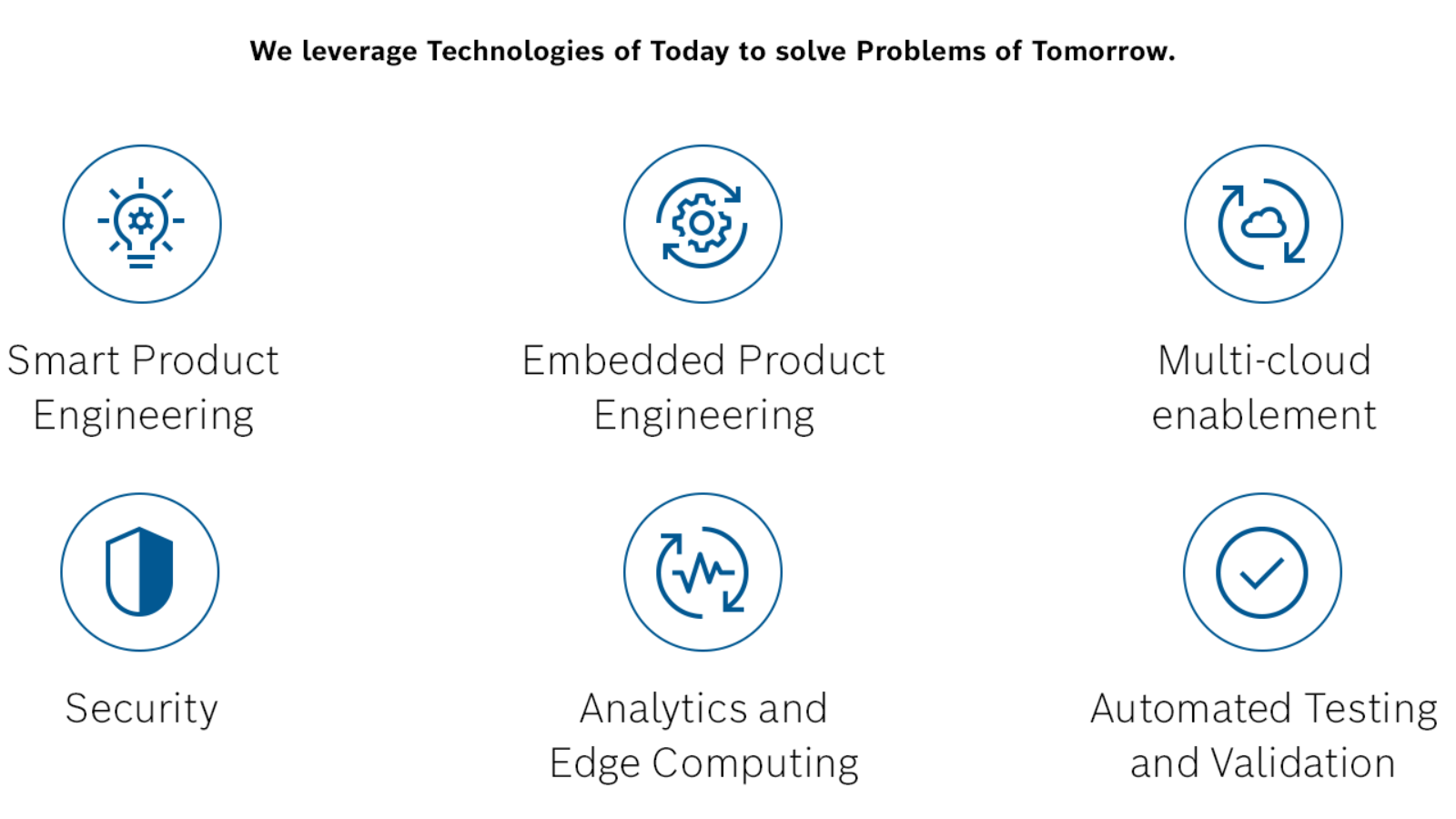 Seamless collaboration

Value-driven applications

Enhanced Efficiency

Faster time-to-market

Higher accuracy

Convergent ecosystem
Your Partner of Choice
Engineering Partner
Bosch has expertise in designing and implementing both hardware and software solutions. Revamp your business models with the help of our pool of experts to stay ahead of the curve.
Product design

IoT

Sensors

Bluetooth

Wi-Fi

5G

Edge computing

Modern-day technologies

AI/ML

Virtualization

DevOps

Digital Twin

UX
Integration Partner
Seamlessly integrate new smart products and solutions with your existing infrastructure in a hassle-free manner with a reduced cycle time.
Technology integration

Cloud connectors

Legacy integration

Gateways

DevOps

Solution integration
Collaboration Partner
Partner with us to leverage centralized communication across all channels, departments, and touchpoints. Enable frictionless collaboration throughout your organization.
Product localization

Global for local and local for local communication

Approbations

Customer experience management

User Experience

Human Machine Interface

Digital enterprise
Who we Are
With over 25 years of in-depth, industry-specific experience, we can cater to all your needs to drive efficiency and value.