AIoT-led Digital Transformation
Leveraging #AIoTOpportunity for a Smarter Tomorrow
With constantly changing customer needs and expectations, businesses need to become more dynamic. Hence, they need to embrace the capabilities of AI and IoT to analyse data and actuate in real-time.
AIoT presents a valuable opportunity for OEMs to transform stakes across the value chain. However, OEMs face several challenges while implementing and scaling these solutions. High Capex hinders short-term operations by restricting cash flow, while long life cycle maintenance for products requires highly reliable production system operations.
With decades of expertise, Bosch harnesses the power of latest technologies and offers AIoT led digital transformation to help OEMs orchestrate the ecosystem and become AIoT driven. These solutions bring business model transformation for OEMs, equipping them to provide personalized experience to their end-customers, ultimately enabling breakout growth in their market segments.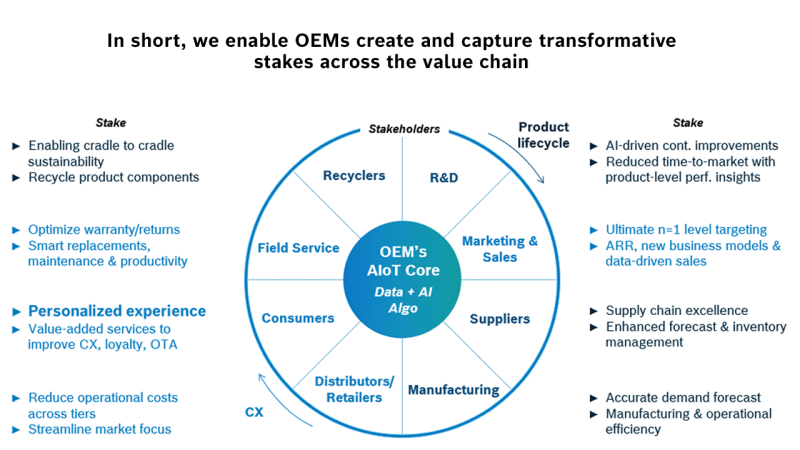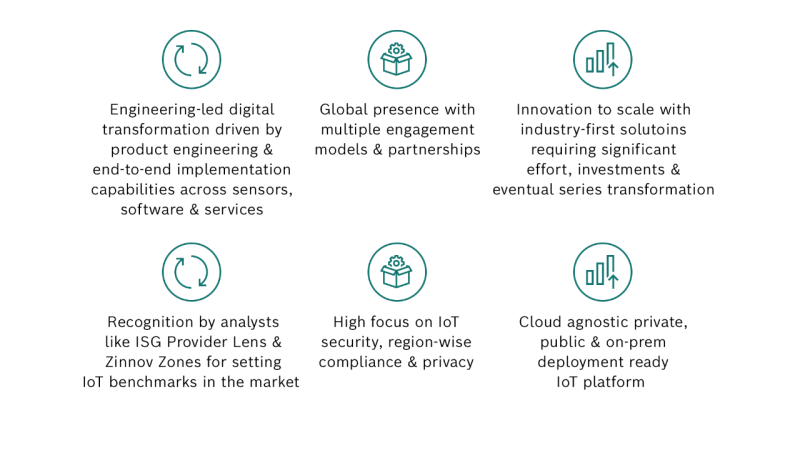 We enable OEMs to become AIoT-driven orchestrators by being their key tech partner, end-to-end from S/W to H/W & AI
On the software side, we have a scalable private & public platform along with multiple software assets and accelerators across domains and use cases. On the hardware front, we provide complex product engineering & quick prototyping for technical validations through Bosch labs. On AI, we also have focused products and algo to make your products intelligent As an OEM & an IoT service provider, we give you assets, competencies & a whole Bosch ecosystem to fast track your AIoT Journey.
We offer consultations, end-to-end solutions, and related services for making your products intelligent