TRAC 360
The right parts, in the right quantity, at the right time
Today's supply chains are complex, diverse, and disparate. With parts and components sourced globally, from multiple providers, businesses must optimise resources and guarantee end-to-end visibility to ensure effective operations. The challenges in maintaining efficient supply chains are ever-present.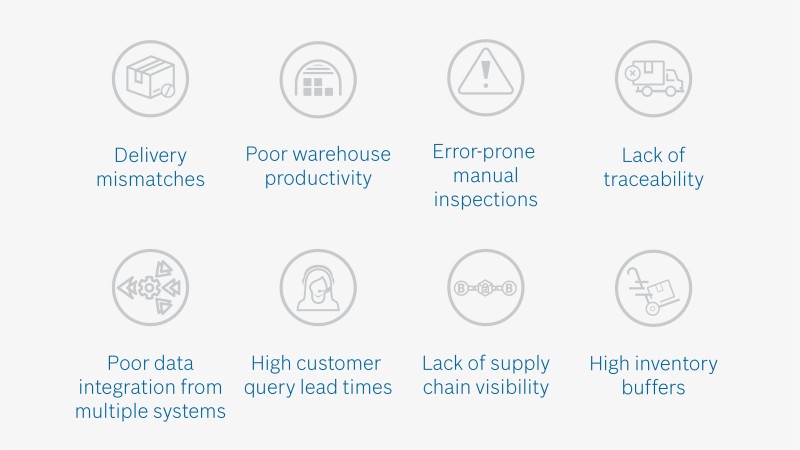 Bosch Trac 360 is an innovative IoT solution that leverages blockchain technology to enable OEMs to track parts and shipments in real time. It uses integrated technologies like GPS, RFID, and Azure IoT Hub to guarantee product transparency, traceability, and visibility.
By providing a single-view, from factory to customer, Trac 360 minimises product loss or damage, low warehouse productivity, and delayed customer responses. It also reduces inventory-carrying costs, synergises data systems, and strengthens returnable bin management.
Trac 360 ensures greater customer satisfaction and operational efficiencies by transforming businesses from fragmented units, into smart, technologically driven supply chains.
End-to-End Globally Connected Supply Chain
Transparency
Granular inventory view and "digital travel diary" for products and carriers to update and communicate location and status
Traceability
IoT-powered devices using RFID tags to provide recorded information about each packaged part to ensure minimal los
Integration
Integrated, cloud-based dashboard to aggregate multi-source and disparate data for real-time insights
Digitally-powered
Fully automated and digital warehouse operations including loading validation, GPS tracking, notifications, and invoice-processing
Blockchain Driven
Blockchain technology to track and verify all transactions along the supply chain, including transfer and receipt of bins, pallets, etc., and delivery of products
Trace-ability in supply chain with cloud solutions powered by Bosch