BOSCH HEMOGLOBIN MONITOR SOLUTION
Anemia testing in the palm of your hands, in less than 30 seconds!
Anemia is a severely debilitating condition that affects more than 1.5 billion people globally. Though it causes one million deaths annually, it is easily treatable but persists due to limited early detection and monitoring solutions.
To enable accessible anemia screening and monitoring, we offer a novel and affordable solution to detect and classify anemia in less than 30 seconds!
The Bosch Hemoglobin Monitor Solution enables rapid point-of-care hemoglobin testing where a user simply places their finger on the device and receives results almost instantaneously. This non-invasive, painless approach with zero infection promise facilitates anemia classification and hemoglobin value prediction and ensures control is directly in the hands of the user.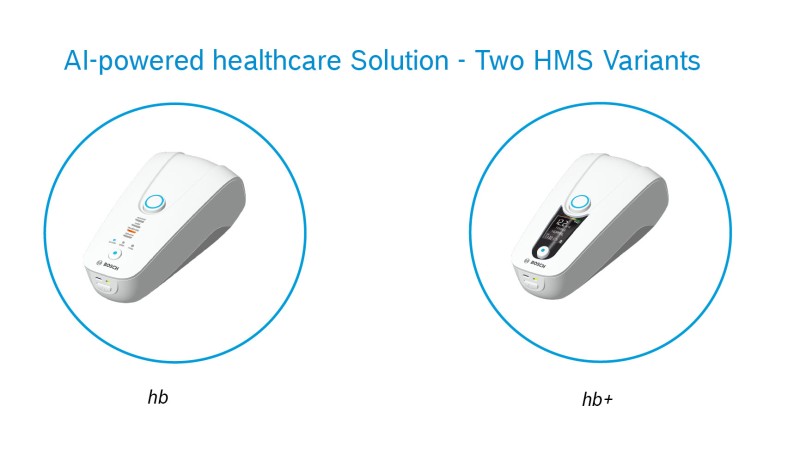 Our hb variant provides a simple classification model for overall wellness and nutritional purposes and buckets results into four categories.
Our hb+ variant ensures specialized care in the midst owing to pregnancy as well as for those battling specific chronic illnesses to deliver the exact hemoglobin value and facilitate effective anemia management.
By leveraging in-built AI-based machine learning algorithms, the solution is built around multi wavelength spectrophotometry to deliver quick and accurate results. Our solution is also enabled with advanced connectivity and facilitates population health management through smart reports by using heat maps.
Connecting the Dots
Its smart functionality includes a safe finger-resting slot, light-up feedback, and smart digital displays for simple understanding. Its hand-held design for portability, network connectivity options for data transfer to devices, and an in-built battery, ensure convenience and ease-of-use. An advanced IoT enabled connectivity for remote device management enables significant reduction in device break-downs that could potentially delay patient diagnosis.
Portable and handheld device

Easy and convenient to use

Easy integration for population health management
Machine learning algorithm
Anemia classification, hemoglobin value prediction
High sensitivity even at low hemoglobin levels
Delivering Real Value
Our non-invasive handheld solution removes the need for additional consumables, drawing blood, and waiting time for lab test reports. It ensures immediate, high-precision results, anywhere-anytime screening, and ease of data transfer.
International Recognition
Our solution has won the prestigious EPDA 2020 and CES 2021 Innovation Award, highlighting its design as well as its practical benefits. We are confident that it will benefit those in need as we continue to innovate for the betterment of our communities.