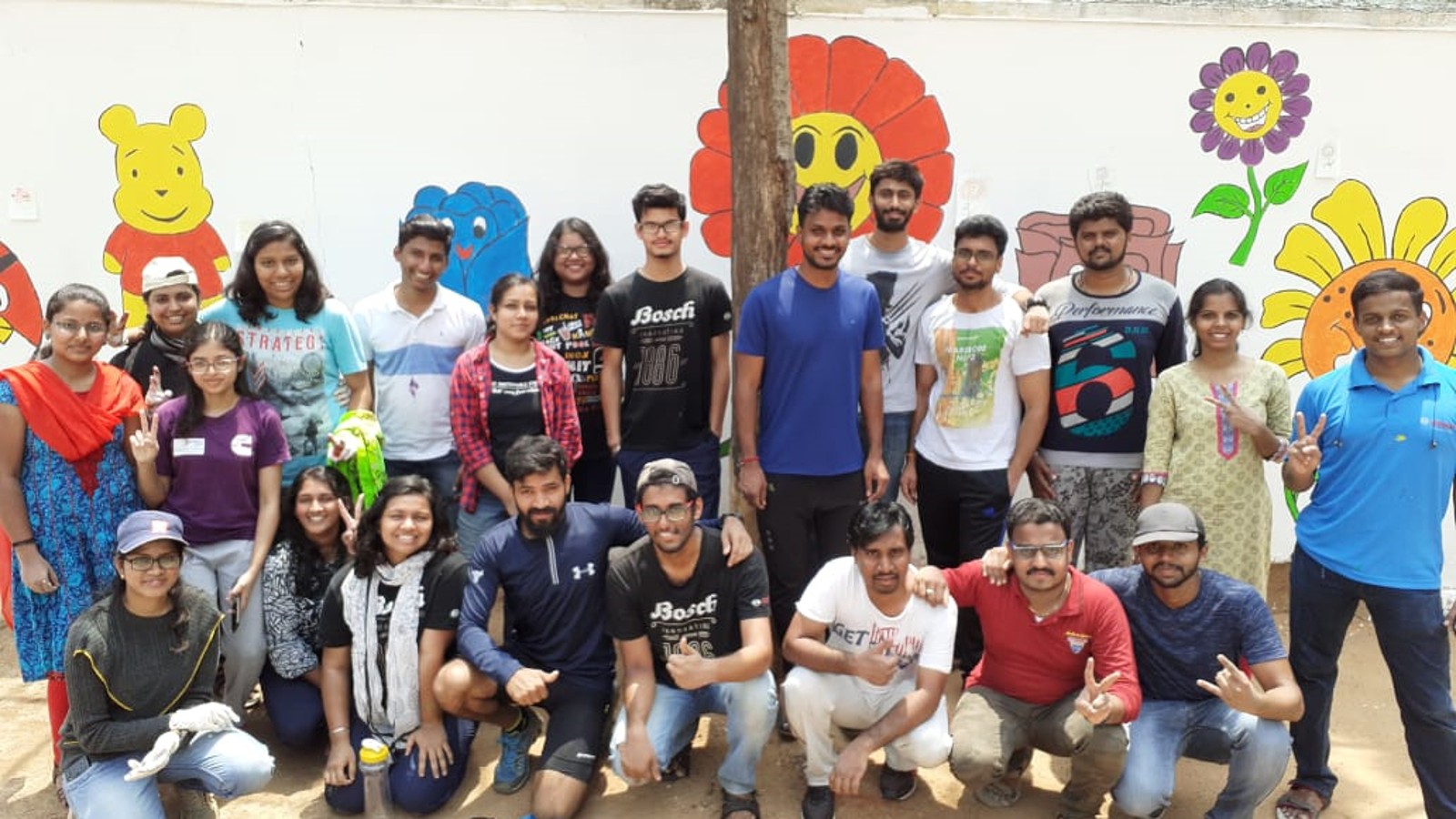 A few years ago, state-run homes were hardly conducive to the health of individuals with neurodevelopmental and physical disorders, who barely interacted with peers and struggled to maintain basic hygiene. Partnering with U&I, Bosch chose to empower the intellectually disadvantaged with education, holistic development and a nurturing environment.
With our enthusiastic volunteers we have been able to make a real difference to the residents' wellbeing. By facilitating learning and development across different domains like speech & language, cognitive, social, emotional and physical, we were able to help enhance residents' abilities and enable a measure of independence and dignity. As a result, our care program has been recognized by Enfold Proactive Health Trust as one of the best models for institutional care across India in 2019.
Profile and Bosch interventions at each of the 4 state run homes:
1. Social Services Complex for Men
84 differently abled men (21+ years)
Vocational training
Special education
promote health and hygiene
2. Shishu Mandir
50 abandoned infants and toddlers (0-6 years)
Childcare services
Pre-school
Establish structured routines
3. Home for Mentally Retarded Women
105 special needs and abandoned women
Vocational skills
Life skills training
4. Children's Home for Mentally Retarded (CHMR)
76 destitute special needs boys (8 to 21 years)
Special classes
Promoting social interaction
Physical activities
Physiotherapy
Scenario – Interventions – Impact in each of the domains
1. Social Domain:
Negligible social interaction! Many residents were unresponsive and disengaged.
Intervention
a. Continual engagement in team building activities, celebrations and festivities
b. Team based sports like cricket.
Result: improved co-ordination, communication and socialization amongst the residents.
2. Physical Domain:
There was a time when the only exercise was walking from one room to another. Most hours were spent resting.
Intervention
i. Walking the line for improvement in balance & coordination
ii. Basic aerobic exercises to promote cardiovascular health
iii. Yoga for better dexterity and stabilized respiration
iv. Exclusive Play area and dedicated sessions
Result: this has helped them develop gross motor skills, grooming capability, and their overall physical fitness.
3. Cognitive:
Self-sufficiency through skill development is a critical. Over time, residents who displayed improvement in gross motor skills were supported to enhance their fine motor skills.
Interventions
i. Detailed paper crafts, sewing by hand and machine and mat making.
ii. Many of their crafts have also been sold at Bosch's own fairs and exhibitions.
Result: This gives them a sense of immense pride and joy. Several residents are now able to make minor alterations and mend torn clothes.
4. Speech and Language Domain:
The residents had limited speech abilities. Whether it was asking for more water, or telling their care takers about aches and pains, they were unable to articulate clearly.
Intervention
Intense program to teach them to identify alphabets, words, and rhymes to help them hone their communication skills.
Result: Today, many of our residents not only manage to communicate with each other independently, even if they speak different languages, but with newcomers as well.
5. Emotional Domain:
Concepts like connection, kindness, empathy, understanding of self and emotions, were alien to many of our residents, who had been through long periods of isolation and neglect.
Interventions
a. Innovation: bringing pets in for non-communicative therapy
b. Trained staff regularly take note of moods and behavioral changes that may be attributed to emotional trouble.
Result: they can recognize if someone is happy, sad, angry, or upset, and this allows them to care for themselves as well as others.