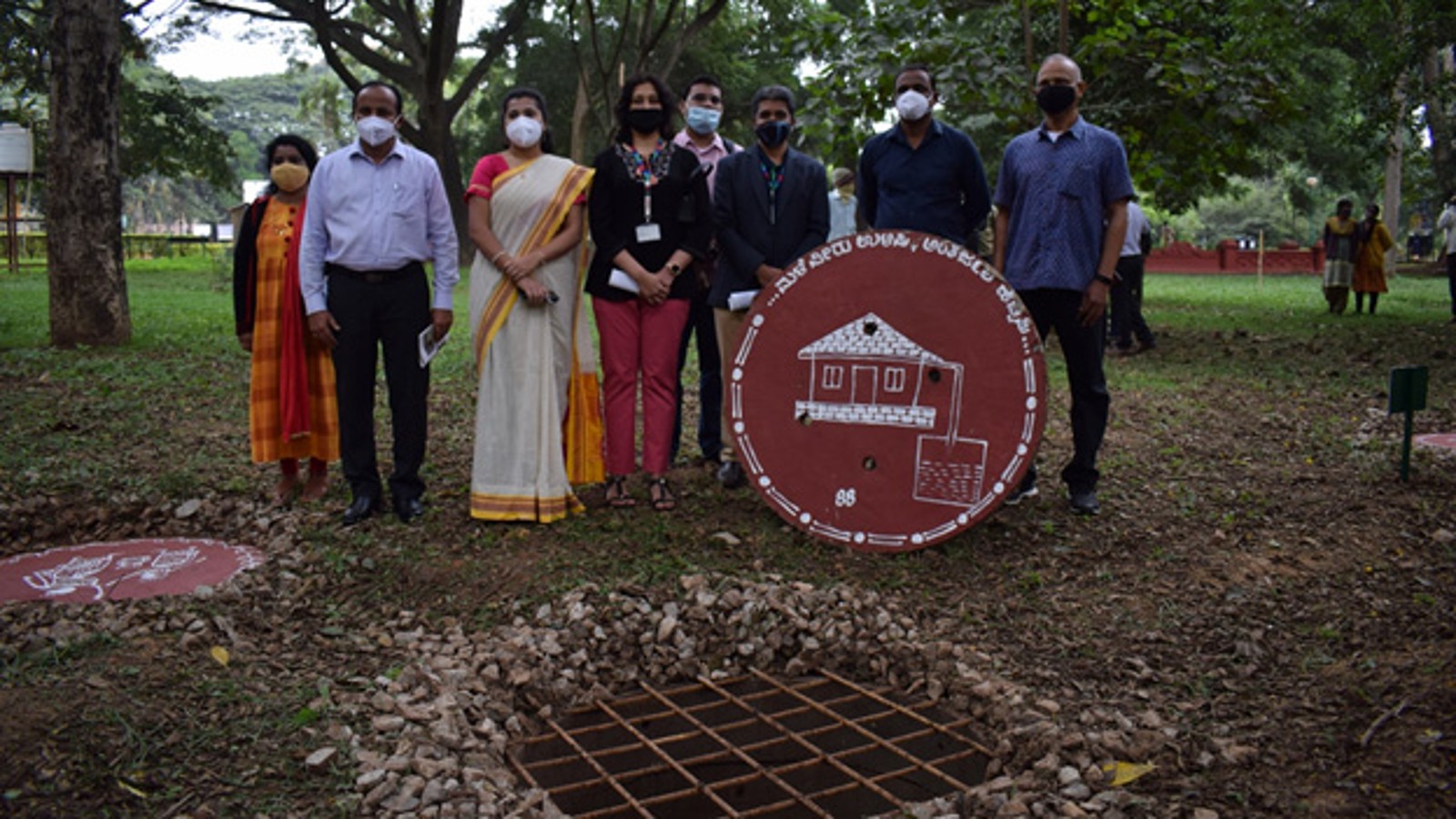 Rain Water Percolation Pits at Lalbagh
India ranks 13th in the world in terms of overall water stress, with 3 times the population of the other 17 extremely high stressed countries combined. Bengaluru features amongst 12 cities where the rate of ground water extraction is overexploited at 141% [1].
Through stakeholder consultation and local study done by United Way Bengaluru it was found that Lalbagh, one of the largest urban lung-spaces in Bengaluru spanning across 240 acres, was not prepared to hold and absorb water within its underground aquifers; instead over 90% of the rainwater was being run off into a sewage line. In 2019, Bosch in alignment to our commitment toward water stewardship, decided to establish a water recharging matrix (a network of recharge wells planned with scientific contour planning) with Department of Horticulture to make Lalbagh water positive and sustain its rich biodiversity.
The structure starts as an 18x3 feet pit dug manually, packed from below. Rings are then lowered into the pit, pebble packing done, and covered. Each of these pits serve as recharge wells and have the capacity to hold, percolate about 3,600 Litres of rainwater. The benefit of recharge pits is that they reduce the velocity of waterflow, retain soil moisture during the dry season thus aiding the growth of natural vegetation.
Warli art has been painted on the lids to promulgate awareness among the several visitors of Lalbagh.
Based on impact study conducted by our implementation partner, the groundwater levels rose by 5ft on an average from a period of March to November.
At present we have 125 percolation wells created through this project and plan to create 50 more in the coming months. The 125 Rainwater Percolation Pits at Lalbagh Botanical Gardens was inaugurated on 17th December 2020 in the presence of the Director of Horticulture Department along with Rajesh ES and CSR team from Bosch.
Each of the recharge wells would have the capacity to percolate 4,46,000 litres of water within Lalbagh Botanical Garden annually [2].
In accordance to promoting the water positivity theme, Bosch has also taken up projects such as Lake Maragondanahalli, BM Kaval forests in Bangalore and Kalingarayan Lake, Chinnavedampatti Lake, Arumuga Kavundanur Kuttai, Kannimar Kuttai, Pachapalayam pond, Sengalipalayam Checkdam, CRPF pond at Coimbatore.
[1] Data from by Central Ground Water Board and The Comprehensive Water Management Index released by NITI Aayog in 2019.
[2] Calculations done considering factors capacity of each recharge pit, average rainfall and 30 rainy days in a year