The BGSW/CSR initiatives primarily focus on education and environmental causes. Education and Sports are interlinked-allowing children to learn life lessons of respect, friendship, teamwork, fair-play, self-discipline and inclusion.
The projects under this initiative encourage and nurture a sporting culture especially among students and those from under privileged backgrounds.
Nurturing Hockey Stars of Tomorrow
Transformative development for the underprivileged children in Hockey (districts of Karnataka and Tamil Nadu)
BGSW/CSR promotes Hockey amongst the budding players from under-privileged backgrounds representing various districts of Karnataka and Tamil Nadu through our support to Karnataka and Tamil Nadu State Hockey Associations.
Hockey Kits were provided to the deserving districts of rural Karnataka and Tamil Nadu, promoting a healthy competition amongst the players, and building their confidence.
Jerseys, track suits, hockey balls, turf playing shoes, and travel assistance are some of the components that are provided to players, thereby promoting the game and aiding in their participation across the nation for various tournaments and championships.
Bosch's intervention enabled the Hockey Unit of Tamil Nadu win the Senior Mens' Championship for the first time in 20 years.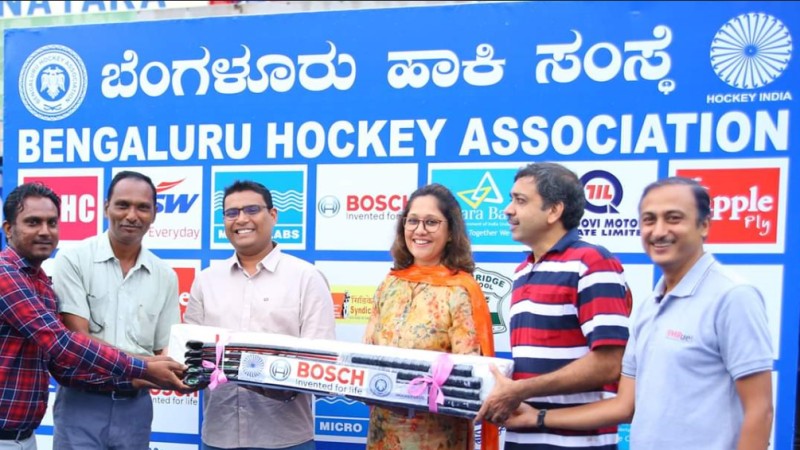 Grooming the Differently Abled to Serve Aces
Support was extended to two differently abled tennis players who are on their pursuit to represent India at the Deaf Olympics in 2021. The players, Jafreen Shaik and Sai Chandan, are trained under Zeeshan Ali at the Zeeshan Ali Tennis Academy (ZATA).
Under the BGSW/CSR sponsorship, the players have been training at ZATA since December 2018. Jafreen Shaik has been selected by the Sports Authority of India to represent India at the World Deaf Championship 2019 in Antalya, Turkey.
Sai Chandan along with Jafreen Shaik will be representing India in the 9th Asia Pacific Deaf Championship in Hong Kong.
Bosch's support enables them to continue their training and to pursue the winning streak for India in the next Deaf Olympics in 2021.
Mastering Soft Skills through Sports
Sports serves as a development tool for the students at Government Schools in the vicinity of Bosch Campuses, instilling soft skills in team Work, communication, problem Solving etc.
Bosch associates volunteer at these schools and are part of various engagements with the children at these schools. The volunteers at Coimbatore organise and conduct annual sports meets in 28 schools to promote healthy competition amongst children, thereby grooming them to face challenges in a healthy and competitive way. Bosch has also invested in the infrastructure and improving the quality of education in these schools.