Bosch Connectivity Test Center
Enabling Connected Products to Become Market Ready
Rapid technological evolution and the exponential growth in connected product adoption has made the need for connectivity, compatibility, and interoperability ubiquitous. Connected products experience a high rate of field failures despite rigorous testing and mandatory certifications such as 'Bluetooth Qualification' (Bluetooth SIG) and 'Wi-Fi Certified' (Wi-Fi Alliance) before their market launch.
Frequent field issues have a detrimental impact on user experience, especially if early adopters face technical challenges. A large proportion of connected products experience a high rate of field failures due to lack of compatibility with heterogenous end-user devices - smartphones, tablets, wearables etc. End-user surveys by well-known market research firms and consumer feedback on connected goods reveal that field failures have a lasting negative effect on a brand's image and product success. Hence it is imperative to provide a best-in-class, seamless and hassle-free user experience.
The interoperability space, at present, is extremely complex and often overlooked. Bosch's in-depth technical expertise, cross-domain knowledge, diversified product portfolio, and extensive worldwide presence have helped realize and deploy world-class connected solutions across geographies.
Connectivity Test Centre (CTC) – an Interoperability (IOP) testing house - provides wide-ranging consulting and testing services in various sectors for connected technologies such as Bluetooth, Wi-Fi, Automotive Smartphone Projection, Media, and others, leveraging the expertise of Bluetooth Qualification Consultants (BQCs) and ISTQB certified test engineers.
Delivering Business Value With Interoperability (IOP)
Interoperability Services Customized to your Connected Products Strategy
Early detection & intervention
Early Root Cause Analysis (RCA)

Debug logs/ traces for faster resolution
Minimized field issues
Brand image protection

Enhanced customer experience (CX)
Regional compatibility with preferred device models
Local asset augmentation

Wider asset coverage
Product predictability/ determinism
Accelerated product–market readiness

Reliable device compatibility
World-class testing support
Compatibility tests with diverse device categories

Accelerated test support in regions of product launch
Seamless interoperability throughout the product lifecycle
Extensive Pre-launch interoperability

Forward compatibility with newer devices/products/firmware updates

Post-launch support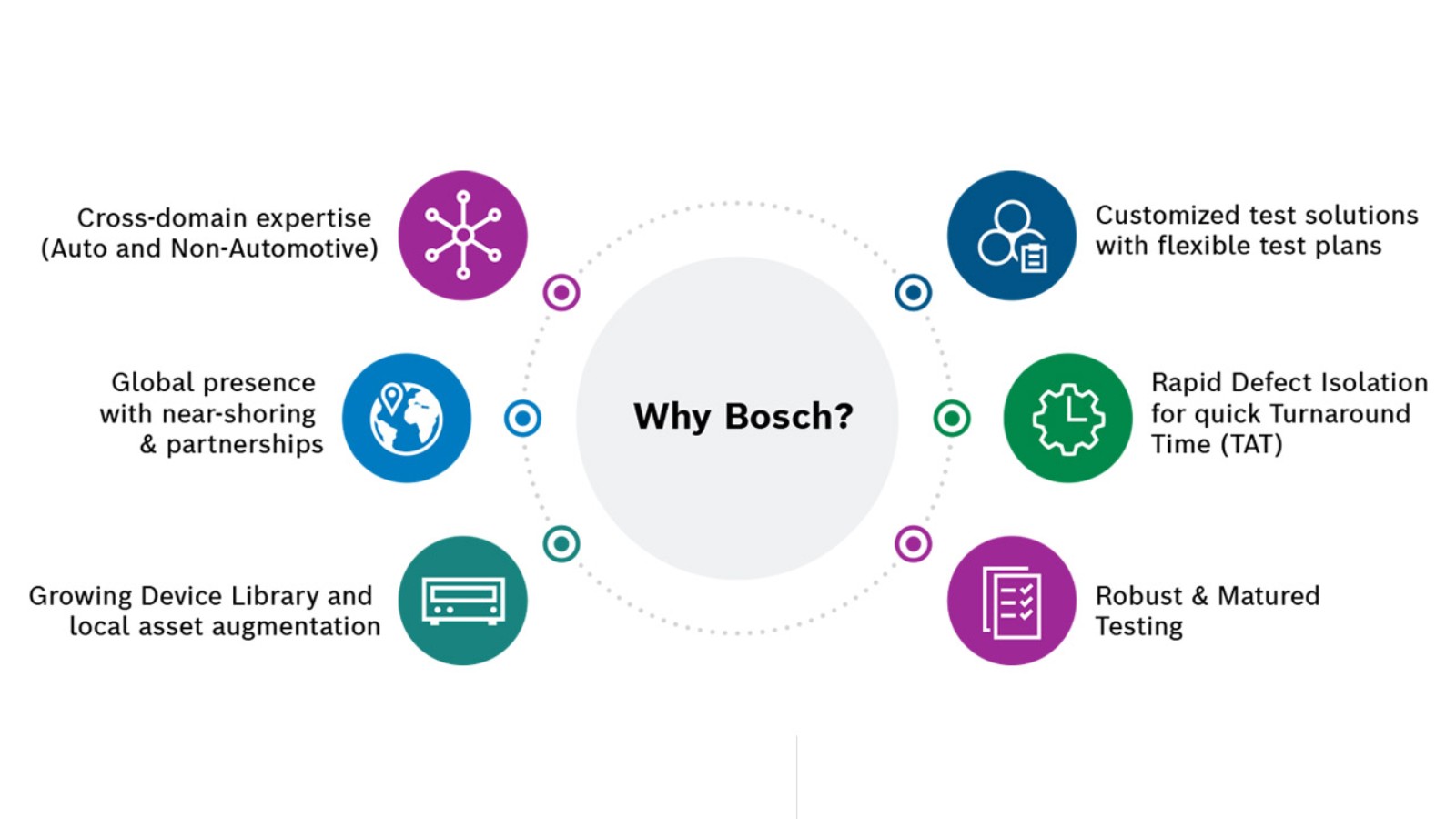 Connectivity Test Centre - Global Centers