Smart insights. Smarter consumption.
Proper energy utilisation and conservation have been of primal importance for communities and enterprises. With the onset of smart cities, smart industries, smart homes and advancing technologies, it is imperative to acquire deep insights into your energy utilisation, consumption and conservation. These in-depth insights will enable you to reduce energy costs and improve your environmental footprint.
Analyse
A single source of truth and visibility. Establish energy transparency across the entire process
Conserve
Recommends interventions for potential scope. Identify interventions for potential energy savings and optimal asset utilisation
Save
Optimises energy costs and production plan. Replicates good operating units across the process and optimises cost per quantity
Insights that make a difference
Bosch's Energy Analytics solution, assists in monitoring various devices that consume energy. The data of the energy consumed and utilised by these devices are read by energy readers and stored on cloud. Here the data is processed with the use of high-level algorithms to give you information as per your requirements, making it possible for the right decision to be taken towards energy conservation, leading to lower energy bills.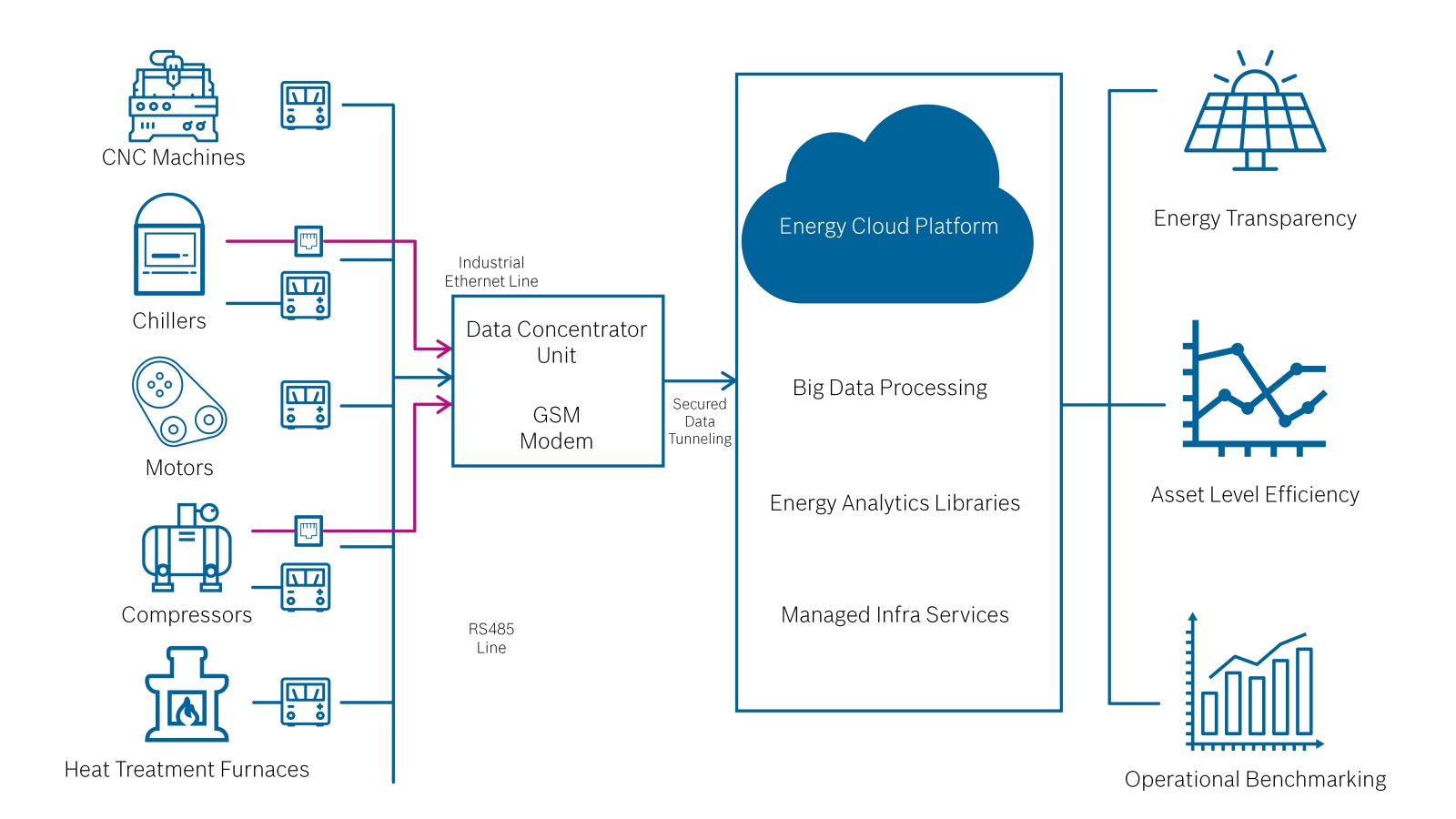 Case studies
Leading hospitality chain in India:
For a leading 5 star hotel in India Bosch implemented an Energy Analytics solution. Through this solution the hospitality firm has ascertained the energy consumption to be around 900 kWh and is planning on the next steps of managing the same.
Also through the insights, we have empowered the organization with patterns of periods peak consumption of power, devices leading to spikes in consumption, energy consumed during these periods.
Auto component manufacturer in India:
For a leading auto manufacturer in India we helped improve energy efficiency by 15%. The business challenges were optimizing the energy costs, understanding the factors that drive energy spend, non-visibility of factors causing energy inefficiencies. Bosch recommended solution to eliminate energy wastages, asset specific analytics to identify inefficiencies. The business benefits delivered for the manufacturer are: 600 mWh of energy savings, USD 100,000 savings in cost, ROI delivered in 8 months, Carbon dioxide emmisions reduced by 447 tons.
Get in touch
We look forward to your inquiry.
Telephone
Fax