Enabling seamless connect between Operations (OT) and Business (IT)
Real-time data acquisition and processing are crucial for various businesses and manufacturing processes. However, companies often face problems when establishing connections to legacy devices, handling multiple data formats, building, and customizing business logic, handling large volumes of data, and so on.
Bosch offers an Industry 4.0 software solution that acquires manufacturing data from a wide variety of shop floor devices (both legacy and modern). The collected data is then pre-processed, transformed to a Standard format and delivered to IT applications such as MES, Database, Cloud, File storage, and more for further processing and storage.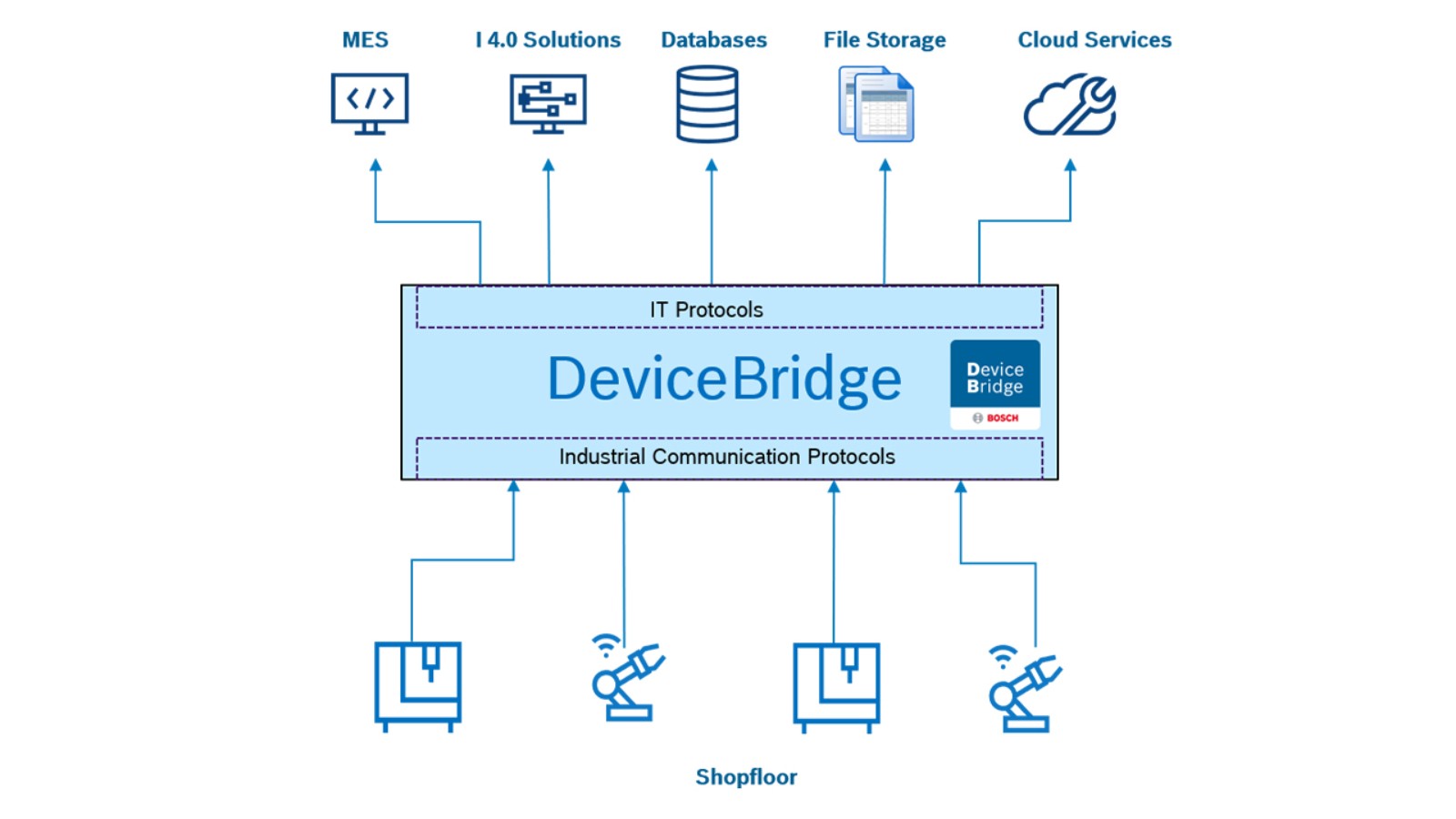 Cross-platform Compatibility
Both Windows & Linux environment hosting
Deployment Flexibility
Multiple Hardware, types of authentication
Built-in Diagnostics Tool
Monitor Process/Machine data collected in near real-time
Built-in Communication Protocols
Access data from 40+ device types such as PLCs, CNCs, Sensors, and more in a tag-based uniform interface
Support for popular controllers & drivers
Siemens, Rexroth, Mitsubishi, Allen Bradley, Fanuc, and so on
Support for multiple communication protocols
Supports Modus, Ethernet/IP,S7 Protocol, Melsec, OPC, and so on
Fault Tolerance & Data persistence
Store & Forward mechanism to avoid data loss with data retention in case of disconnecti on to upstream applications
DIY Transformation Layer
Define custom business logic with Graphical Interface -No Coding required
Define Flexible Payload transformation
Data formatting, Logical, Mathematical, and Expressions, Engineering value conversions, Data Mapping
Built-in Alerts
Email alerts and notifications in case of any failure in data collection
Dockerization Support
Ease of portability by built-in support for dockers
On-Demand data delivery
Delivers collected data in user demanded format to various upstream applications such as Database, MES, Cloud, and MQTT.
Data Modelling
Customizable JSON, XML data Modelling
Secure
Encrypted data collection and transfer
Trigger Based Data Collection
Avoids unnecessary device polling
DeviceBridge and Smart Machines
Bosch DeviceBridge addresses critical problem areas in machine/process data acquisition and management on a manufacturing shop floor by providing a secure, adaptable, and scalable 4.0 industrial class solution.
Automated Data collection - Saves cost and time, avoids or minimizes errors, transparent process

A single solution to collect data from disparate devices

Near Real-time data acquisition

Plug and Play solution, Easy to configure & deploy

No (or minimum) modification of Controller /Machine programs

Extendable - Plugin based design allows easy addition of new drivers, collectors, and adapters

Do It Yourself (DIY) transformation at Edge