Enterprise Solutions
Microsoft
Enhancing profitability with Microsoft solutions
In today's fast changing business world, managing large enterprise involves enormous challenges. Our approach to this ever changing market dynamics is to embrace the change and be there where our customers need us. With years of experience and best practices, Bosch handles large enterprise implementation seamlessly by addressing customers' business challenges with a wide range of technologies and solutions, thereby enabling business processes to be the best in the industry.
Bosch (known for 3S – Sensors, Software and Services) is known as one of the very few players in the IT Services industry that has strong domain capabilities and processes know-how. We have significant expertise in delivering IT Projects and Consulting Services to our customers leveraging our proven and well defined Global Delivery Model (Onsite, Offsite as well as Offshore)
At the Microsoft practice in Bosch, starting from consulting to development, design & implementation, migration, maintenance and support Bosch has been catering to the IT needs of fortune companies across the globe. We combine the power of Microsoft's best-of-breed products with our technology expertise and domain knowledge to deliver measurable business value to our customers. In addition, Bosch has invested heavily in setting up dedicated Microsoft Center of Excellence (CoE) to conduct research on the latest developments in technology, industry standards & best practices, solutions & service delivery frameworks and reusable components. The CoE works closely with the project teams on continuous basis by deploying architects to review the quality of deliverables.
Bosch – Microsoft Relationship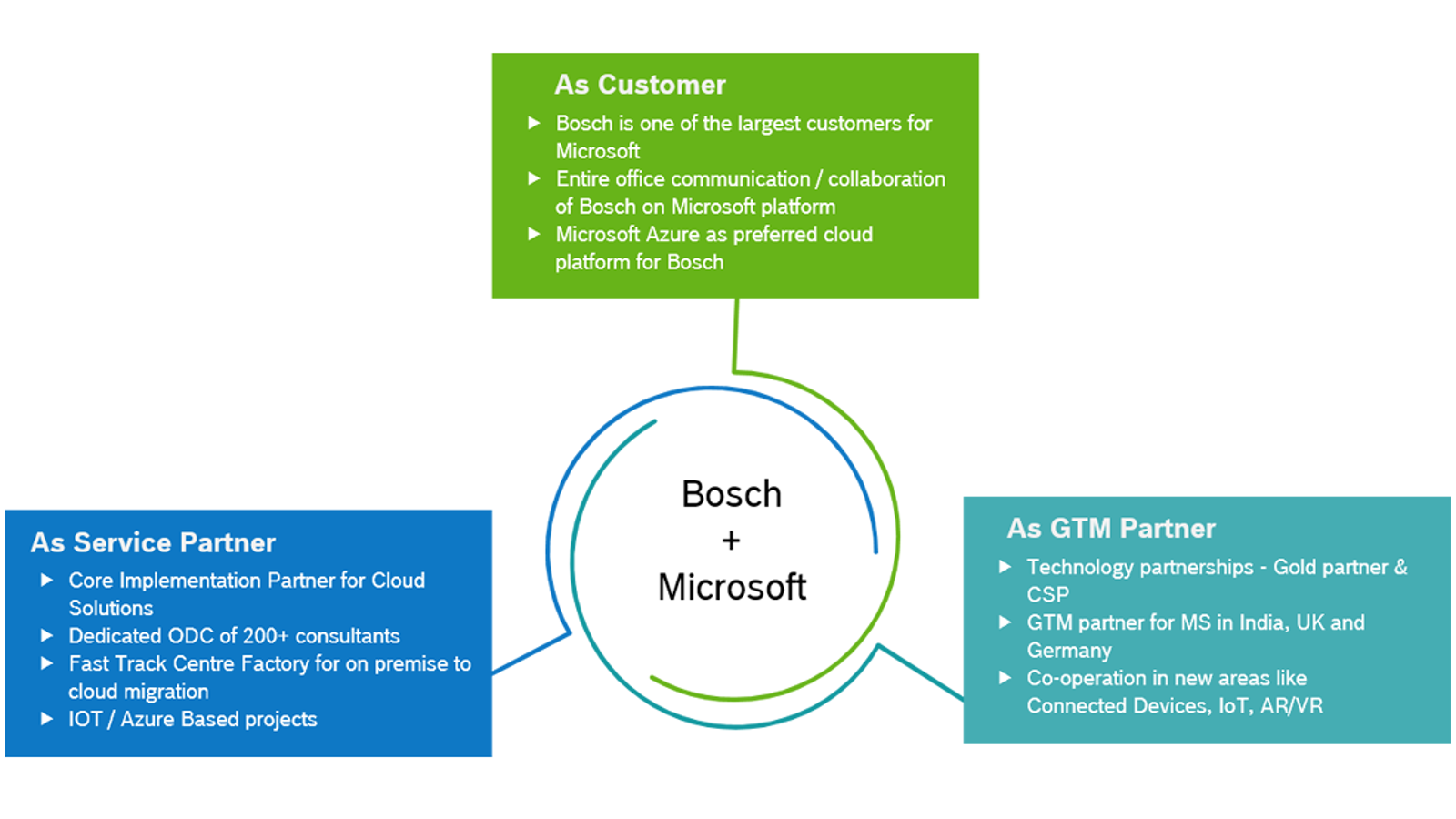 Microsoft and Bosch, pioneers in their respective fields of IT and Engineering, having very strong and similar philosophies of doing business, have started a new journey in partnering for IT and engineering in India. Focusing on Quality and Innovation, the cornerstones of success in the respective organizations, the partnership is focused on bringing in the strengths and best practices to Create Value and Share value. Through this partnership Microsoft, a leader in technology solutions and Bosch with its deep domain knowhow and practitioner's approach to problem solving, have built best in class solutions for customers.
Microsoft Dynamics CRM streamlines and automates sales processes to achieve
We make use of Microsoft Solutions Development Practice with the help of Microsoft technology leadership and solution engineering.
Improved Customer Retention
Why Bosch?
Executed more than 300 projects on this platform

Adept at tailor-made solutions for your requirements
Get in touch
We look forward to your inquiry.
Telephone
Fax